Last month I had the pleasure of attending Spit and Roast's first ever Jamboree. The street food maestros have decided to put on a series of events, once a month, showcasing their many culinary talents that they may not be able to normally do from their rotisserie van. Each time they're inviting some friends along to help put on a feast, hidden away above a pub in east London.
The room is upstairs at The Princess Alice on Commerical Street. Pretty much the entire space is taken up by the three long, wooden tables with benches. Bunting, fairy lights, and Chinese lanterns hang from the ceiling; in the corner, next to a plump, red couch and a portrait of Churchill is the DJ booth that Spit and Roast occupy later in the night. Record sleeves perch on the shelves above the mirror-backed bar. To me it felt almost like I was going to a house party in someone's attic where there happened to be a meal of delicious fried chicken before the tunes were rolled out.
You are greeted by Mr. Spit himself (or is it Mr. Roast?), Justin, with a warm welcome and a glass of prosecco. Although it was promised that the welcome bubbly would be enjoyed on a rooftop, this was perhaps a bit ambitious given that it was early February in London — it was a rather drizzly and cold evening. I did pop up for a peek, though, and can assure you that at later Jamborees, when the weather is milder and the sun sticks around longer into the evening, it will be a very lovely place to enjoy a welcome drink with views of the City skyline.
But back to the event at hand. I had purchased tickets only for myself (a steal at £25) and was a bit daunted by the long communal tables, full of groups of people already laughing over their proseccos or bottles of beer. Thankfully I spotted Chris of All Things Meaty and was able to join their section of the table, along with The Burger Addict, their other halves and a few of their friends. I would recommend coming to these events with at least one other person in tow, although the seating arrangements and alcohol mean that you probably will get to know your neighbours at least a little bit.
First up on the menu was Orange Buffalo.  Orange Buffalo have carved out a nice place in the street food scene just off of Brick Lane. I myself hadn't had a chance to visit them, despite hearing rave reviews about the quality and value of the wings. At the Jamboree, they had very kindly put out sample jars of all the sauces so you could taste test them and see how much heat you could handle. I wanted to try the "Vincent", a medium-hot sauce made with mangos, because I love sweet heat, but it was too much for my wimp taste buds to deal with. I opted for the absolute mildest of the sauces, "Original", which to my dismay was listed as a "medium" heat and still had quite the kick. As I was snapping pictures in the kitchen, it seemed that most people opted for the "Vincent", some ordered "Woof Woof" (medium-hot) or "Original" whilst only a few brave souls ordered the "Viper" sauce.
The general consensus was that the wings were very tasty, but even the most hardened spice veterans were having trouble getting through their "Vincent" wings. One person, who had been to the Orange Buffalo stand previously, said the wings were uncharacteristically hot. Given that they had made special batches of all their sauces just for the Jamboree, I'd put it down to nerves or a one-time fluke. There was no question about the flavour or quality of the wings – it just seems that they went a bit heavy-handed with the chillis this time. I bravely made it through all my "Original" wings though, with lots of help from the cooling blue cheese sauce and a few bottles of Coke, and only cried a little bit. It was worth it.
I then spent the rest of the evening coveting Mr. Orange's (or was it Mr. Buffalo?) amazing Nikon D700.
On to the main event: Spit and Roast were preparing a variety of dishes. The first was a shrimp gumbo. I got very excited when I saw this on the menu. Being a Southern girl, especially with family all over Louisiana, gumbo is something I know and love. It's also something me and my family have very strong opinions over. Spit and Roast's gumbo passed my test in almost every way – it had wonderful flavours and was rich, if not very thick. I asked how they had cooked it and of course they had started the proper way, preparing a roux as a base. I was very proud, except for that fact that they had left off the rice. Gumbo isn't gumbo without rice. I told this to them and Ross (Mr. Roast?) cheekily offered to get some ricefor me from a takeaway down the street, but I politely declined. I'll put it down to cultural differences – not that it really mattered, because the dish tasted just fine.
But the gumbo was nothing compared to what we were in for next: the infamous buttermilk fried chicken with a tangy Korean hot sauce. It was served up generously, three large pieces, on a plate with room left over for the accoutrements: greens, mac n' cheese, grits, and fries. In other words, good Southern home cookin'. Oh my, was I in heaven. Just about every bit of it was absolutely amazing, and I only wish that I had a bigger stomach to fit it all in.
The grits were a highlight for me, because it's something you don't find outside of the South very often. I try to explain it to some people and they just wrinkle their noses. If people have had it, they say it's bland and tasteless. Well yes, grits are – it's just stoneground cornmeal cooked in water, and can be very much like a gruel. You have to add things to it – namely those Southern cooking staples butter and salt – to really make it good. But good grits are so comforting and it's something I was raised on. To see properly good grits being served up here in London put a huge smile on my face, and I probably at a good half plate all on my own.
The mac n' cheese was tasty, but a bit dry for my liking. This is, I think, a difference between America and Britain – we Americans love our mac n' cheese gooey and dripping in calories, whilst Brits prefer something more resembling a pasta bake. The chicken, of course, was cooked to cripsy and moist perfection. The Korean hot sauce was even better than what I had had at KERB with my fried chicken bap – it was sweeter, tangier, with a bit of a kick.
Why did I not stuff myself silly on chicken and grits? Well, I knew what delights were in store for dessert.
You Doughnut! had the final course of the evening, which was sure to be a stunner. If you've read my post on KERB you know that I was bowled over by their doughnuts back in November. It's an absolute shame that I hadn't been back to try them again, but my waiting paid off. For the Jamboree You Doughnut! fried up their trademark fluffy, delicate dough balls and topped it with a hot butterscotch sauce and salty crushed peanuts, and paired it with clotted cream ice cream. It was an absolutely rich and decadent way to finish off the meal.
Across the whole evening there emerged a sense of community, especially as the main dishes came out on platters that had to be passed down the table, much like a Thanksgiving or Christmas meal. The seating arrangements had the potential to make things awkward, but despite the fact that we're all grouchy Londoners most of the time, everyone seemed to get into the sharing spirit and had a laugh.
Spit and Roast are stepping up their game for the next Jamboree on March 15th by having 4 traders in one kitchen: Bleecker Burger joins the fun, and Sorbitium Ices take over the reins of the desserts. This time it's £32.50 for a ticket (they can be found here), but remember that it gets you prosecco, a plate of wings, a bowl of poutine, a burger, and ice cream, along with some good elbow-bumping, holiday-feast-style vibes. You're bound to have a great time and come away with a full, happy belly as well.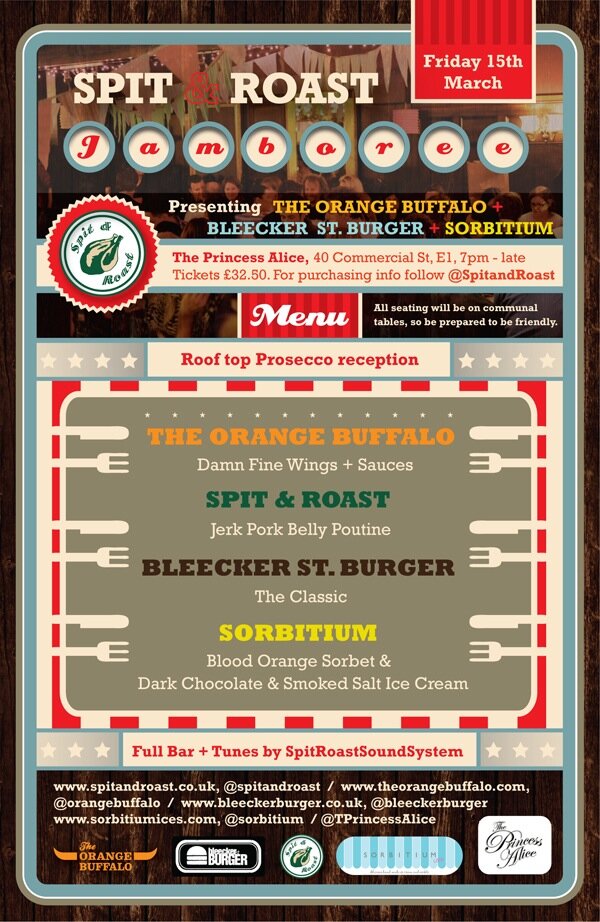 You might also enjoy reading: